Smoked Mackerel & feta cheese pannini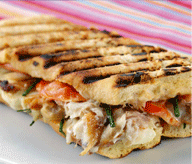 Ingrediants
Serves4

245g smoked Scottish mackerel fillets , flaked
1 part baked ciabatta, cooked as per pack instuctions , split and cooled
30ml (2tbsp) mayonnaise
115g (4oz) feta cheese , finely sliced
1 large tomato, finely sliced

Method

1.Preheat a griddle pan.
2.Take the ciabatta and cut into 2 pieces.
3.Arrange the tomato on the base of each piece.
4.Mix together the mayonnaise and the smoked mackerel
and spread over the tomatoes, then top with the feta.
5.Sandwich the ciabatta pieces together.
6.Place the ciabatta onto the griddle.
7.Weigh down with a plate and cook for 1-2 minutes.
8.Turn the ciabatta pieces over and repeat the process.
9.Serve immediately.