Why insist on fish from a Fishmonger?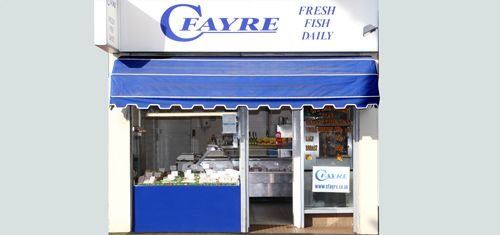 Making sure that our children's children can enjoy the quality and variety of fish that is available to us today is vital. Your fishmonger helps achieve this by selecting fish for their stores that have been caught and landed using ethical and sustainable practices.

Fish that has been hand-filleted offers the best chance of cooking with 'boneless fish'. Fishmongers have a wealth of skills and experience in hand-filleting.

The very best smoked fish tastes and smells of the 'smoking medium' and is truly incomparable. Fishmongers either do their own smoking or can control the smoking environment to achieve the best results.

We are all conscious about healthy eating and fish is one of the healthiest foods available. Your fishmonger will help you with suggestions on what to buy and how to cook it.

Recipes often call for unusual products and or sizes. Fishmongers are able to source and cut fish to meet specific recipe requirements.

CFayre sources the majority of our fish from the clean, clear waters around Scotland and, wherever possible, insist on line-caught fish and hand-dived shell fish. John, our fishmonger, personally selects the fish at the fish-market so that he can consistently offer a good variety of quality fish. He then hand-fillets the fish using the skills that have been passed down through generations in his family. John and his family are steeped in the tradition of fishmongering and he can offer guidance and advice on choosing fish and provide information on how to prepare, cook and serve the fish.

C Fayre has been offering this service to its customers for many years and is now delighted to be able to offer the service to our online customers.

For guidance on choosing the fish and suggestions for cooking it, just contact CFayre via email or pick up the phone and speak to John or one of his knowledgeable staff.